The Unexpected Truth about the Bottom of the Pyramid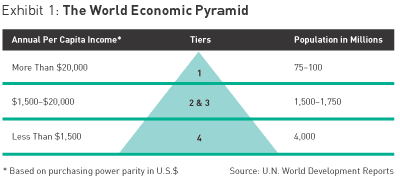 The bottom of the pyramid (BOP) goes by a few names; the bottom of the pyramid, the bottom of the wealth pyramid, or the bottom of the income pyramid. These titles all refer to the largest, but the poorest socio-economic group made up of 2.7 billion people who live on less than $2.50 a day. Similarly, 90% of the jobs at the bottom of the pyramid are those of self-employment and not employment.
"Low-income markets present a prodigious opportunity for the world's wealthiest companies-- to seek their fortunes and bring prosperity to the aspiring poor." -C.K Prahalad and Stuart L. Hart
"Bottom of the Pyramid" was originally defined by C.K Prahalad and Stuart L. Hart in 1998. They suggested that we stop seeing the poor as victims, and rather as innovative entrepreneurs. Creating markets at the bottom of the pyramid is a direct way to provide entrepreneurship opportunities for local businesses and consumers. The "Bottom of the Pyramid" is a way to lift up the billions of people who live in countries that push their poorer citizens aside. To close the sprawling gap between the world's richest and poorest citizens. Prahalad outlines the misconceptions we have about the bottom of the pyramid;
Assumption #1: The poor are not our target consumers because, with our current cost structures, we cannot profitably compete for the market.
Assumption #2: The poor cannot and have no use for the products and services sold in developed markets.
Assumption #3: Only developed markets appreciate and will pay for new technology. The poor can use the previous generation of technology.
Assumption #4: The bottom of the pyramid is not important to the long-term viability of our business. We can leave Tier 4 to governments and nonprofits.
Assumption #5: Managers are not excited by business challenges that have a humanitarian dimension.
Assumption #6: Intellectual excitement is in developed markets. It is hard to find talented managers who want to work at the bottom of the pyramid.
Social Ventures Foundation utilizes micro-franchising to aid the development, promotion, and funding of the world's most outstanding social ventures that sustainably lift the livelihoods of the poor. Therefore, by promoting sustainable business models Social Venture Foundation creates both employment and self-employment opportunities. These social franchises not only provide jobs, but they also provide innovative solutions to the socio-economic strains faced by those at the bottom of the pyramid.
Sources
https://hbr.org/2012/06/reality-check-at-the-bottom-of-the-pyramid
https://www.csrwire.com/pdf/Prahalad-excerpt-001-022.pdf
https://people.eecs.berkeley.edu/~brewer/ict4b/Fortune-BoP.p